Taobao Manila provides service covering complete business chain. We are Acting as your representative & working as your buying office.
We will minimize the risks of sourcing in China by choosing reputable trade partners and using stringent systems to ensure product quality.
We will:
• Tender your product out
• Validate on potential suppliers
• Negotiate prices on your behalf
• Perform quality checks
• Arrange delivery to your door
We have the contacts, systems, people and resources to source you the best deal in China. The Source gets the competitive advantage for your supply chain. Professionalism, experience and integrity have earned The Source its reputation.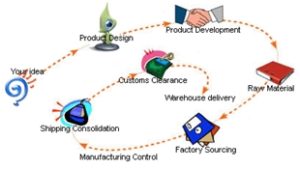 Third party inspection and issue report
Third party inspection, strictly executes in accordance with international standard
Quality Control  from factory evaluation to material recognition
Keep an eye under production and final inspection before shipment.
Our inspection services including:
Factory Evaluation
Pre-production——During Production——Final Random  Inspection
Loading Supervision
Sample CollectionWhat we do for "Pre-production——During Production——Final Random  Inspection" ?
We can provide all-around visual checks on the quality of components, materials, semi-finished products and finished products in the early stages of production, and know the schedule of the production processes. If any defect be found, our inspector will discover the causes and recommend corrective measures for quality improvement during the production stages.
What we do for "Loading Supervision" ?
Our inspectors will stay in the factories, warehouses, loading place to check products' information: quantity, package when loading, supervise the whole loading process and help manufacturer finish loading under correct and clear working clauses and process.
We will follow up tightly each order to make sure the goods will produce according your specification, and be ready on time. We will update you by pictures from mass production and pictures from our QC process. If goods need to be repacked, we will collect goods to our warehouse, then we can make special packing for you, such as: change the size of the box, making the wooden pallet and stick the label or bar code as your demand.
Container Loading & Shipping
Once goods passed our QC, We will make all the documents for custom declaration and prepare for the air or sea shipment. You can choose your own forwarder or ours which we have cooperated with for long time. Our employees will watch the container loading and take pictures for your early reference. Once the goods are on board, we will send the relative documents as invoice, packing list, B/L, CO or Form A to you for the custom clearance in destination port.
For customers not ready to come to China, please send email to us with the details of products, we will compare the price between vendors and send quotation list to you. Please feel free to contact us.
Taobao buying agent is to buy goods direct on taobao.com with cheap China local prices
1. Why you need an taobao agent?
  we will help you translate English to Chinese products so you can search by Chinese to see the product, after picking up items, we will translate details description of items for you.
Taobao seller will not offer international shipping to you, you may be buying from many different sellers, and you will not be able to save shipping cost from combined shipping.
Only Chinese payment is available, you can not use credit card or paypal, we will represent you to buy from them with our payment account and goods check like paypal.
2. With our assistant, you will benefit from the bellow:
Communicating with the Seller to choose the item.
Providing credit and common check of the seller.
 Translating of product details.
 Help searching for what you want in Chinese.
 Checking the items for damage or defect.
Taking photos of your products and show to you if you need to see for confirmation.
 Dealing with returns and exchanges.
 Repackaging items to ensure safe shipment or reduce weight.
3. How does it work?
Show us the product you want on www.Taobao.com with links including colors, size, quantity etc.
Confirm orders and we will work out all cost with shipping cost.
 Pay to our account then we will start to buy from seller and deliver to our address.
 Consolidate shipment and send to you with courier you prefer to.